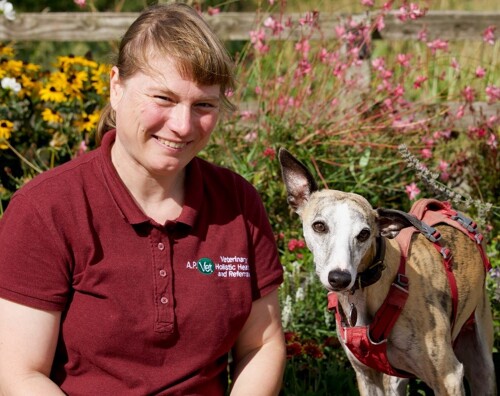 "My love for both animals and plants developed early being part of a local nature conservation group from a young age. Most of my pocket money I earned harvesting herbs, for example Small Flowered Willowherb, Lime Flower, St Johns Wort and Hawthorn.
In Germany licensed herbal remedies are widely used in human and veterinary medicine. They were part of an integrated approach in my first job in mixed practice and to start with I focused on acupuncture and laser therapy. But moving to the United Kingdom hardly any licensed herbal veterinary products were available. For that reason I started training in veterinary herbal medicine in 2012. The course didn't lead to a formal qualification, and I was glad that CIVT enabled me to get more structure into my herbal knowledge. They really made an effort to assess my pre-existing learning and helped me understand how to fill in existing gaps.
I live and work in rural Herfordshire (UK) and still "harvest" in our garden instead of weeding. The Mistletoe for cardio-vascular used comes from local organic orchards, where removing some Mistletoe is part of their restoration.
Some of the course work has deepened my relationship with the manufactures of the herbal tinctures I use in practice and enhanced my herbal dispensary considerably.
I enjoy that herbalism incorporates so many traditions, but I didn't have a good understanding what the actual "Western" approach is. My knowledge especially of the non-native herbs has very much improved during the course and they combine very well with my old favourites."
Dr Iris Ege
United Kingdom